Like a lot of Irish people, I suspect, I am guilty of not spending enough time holidaying in my own country. Ryanair have spoiled us with easy access to budget flights to Europe – I mean yes, they are the "no frills" airline that it's a national pastime to grumble about, but there's a reason the airline is the go-to airline of choice – it has allowed us to travel around Europe on a budget.
We have beautiful countryside and stunning beaches right here on our own door step and when the sun is shining there is nowhere us Irish would rather be but of course the sun is not always shining……..
When we come back for our big annual Irish summer trip, I make an effort to take my girls on a little road trip so that they experience the real Ireland – the unpredictable weather, roads with pot-holes you could lose your car in but also the hospitable warmth and character of the people and the rich culture and history of this small island adrift in the Atlantic Ocean.
This year, our destination was the famous Ring of Kerry which is a big draw to tourists who drive, cycle and walk this scenic 180km route taking in wild rugged coastlines and picturesque seaside villages. I remembered doing this holiday as a kid and even then recognised that the drive was pretty special. Having 3 nights, I decided to just do half the Ring, giving us the luxury of making stop offs at whatever interested us – we have already planned to do the other half of the Ring next summer.
So with the car packed to bursting, including Granny, we left Cork and hit the road to Kerry.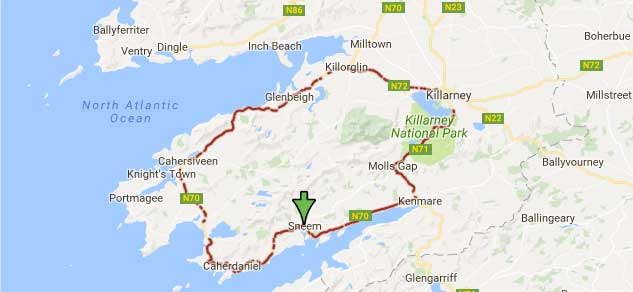 Day 1: Killorglin (with a stop off in Killarney)
Killarney is famous for it's horse and trap rides around the National Park and I just knew that my girls would love this, which of course they did.
I hadn't told them what we were going doing, just that a driver was picking us up to bring us for a tour around Killarney and the national park – they were so excited when they saw our mode of transport and immediately made friends with Sally the horse.
We were lucky that the rain that had been coming and going all day decided to let up for our horse ride, leaving the lovely fresh smell of wet grass in the air.
With the end of the school holidays in sight, my girls are approaching that point where they have just about had enough of each other and the bickering and sniping starts – the perfect time to take them on a road trip where they are cooped up in the back of the car together! So this cute moment where I look over and, in their excitement, they are holding hands reminds me that they really are best friends. Heart melted.
Onto to Killorglin where we stayed in a lovely boutique townhouse where, much to the girls delight, breakfast was served in the bar downstairs.
After breakfast we had a stroll around the town and checked out the shops. The girls had holiday spending money courtesy of Grannies and aunties that was burning a hole in their pockets to be spent. My youngest found a creepy looking doll in a secondhand shop (I can't think why someone would have given her away…) which she just had to buy and Granny thought it a good idea to buy them toy guitars (noise making of course) that they spotted in a charity shop. They immediately took to the streets "busking" much to passer-by's amusement. Hey, even U2 started somewhere……..
En-route to Portmagee, we had a quick stop off in Glenbeigh to let the girls stretch their legs (it's like travelling with dogs) with a play at the blustery beach playground
Day 2: Portmagee
Portmagee is a postcard picture perfect fishing village with an obsession with Star Wars. Not as random as it sounds! Skellig Michael (or the planet Ahch-To as it is called in Star Wars), is a small ancient island just off Portmagee. It was here on Skellig Michael where Rey finally finds Luke Skywalker living in the 2015 movie The Force Awakens and where the first Jedi temple is created.
The weather beaten isolated island was occupied by monks in their iconic stone beehive huts believed to date back to the 6th – 8th century. It is a remote inhospitable place inhabited by those wishing to escape from the world – be it monks or Jedi knights!
It is possible to do a tour of the island but not recommended for young kids due to the terrain and many steps so we will have to leave it for another year. We'll have to make do with a video in the meantime:
The Star Wars crew ingrained themselves with the locals in their time there – Mark Hamill (aka Luke Skywalker) learned to pull a pint of Guinness in the local pub in Portmagee, while Chewbacca made kids dreams come true when he went to meet them in a local school – this is so adorable:
Beautiful Portmagee is also home to the wild Kerry Cliffs.
I am a complete techno phobe. My husband teases me that any night he goes out and I stay home that he is guaranteed to get a phone call from me telling him that there is a problem with the t.v. and he'll have to talk me through getting my movie playing. When he laughs at my technology challenges I get much amusement from pointing out to him that I studied at an Institute of Technology for 3 years (I actually studied Real Estate Management, hardly technological.)
Anyway, my 8 year old showed me that I could use filters when taking photos on my phone – even this techno phobe could manage it. I was like a child with a new toy trying out the different filters – the wildness of the cliffs and surrounding landscape is hard to capture in photos but some of the filters made a good attempt.
Day 3: Cahersiveen
We left Portmagee heading to Cahersiveen along the scenic Skellig Ring drive with a stop off at Skellig Chocolate Factory along the way.
Now, I have a very unusual 6 year old who does not like chocolate. "Does not like" is an understatement – she actually detests it. I don't understand it but there you go – she certainly didn't inherit it from me! So when I told the girls where we were going, I had one girl who nearly exploded with excitement (she is the one trying to smile with her cheeks stuffed with chocolate during the chocolate tasting in the photo below) and one girl who pretty much sulked all morning coming around only with the promise that she could look around some shops in Cahersiveen when we got there – she is the girliest of girls and loves to go shopping (she didn't inherit that from me either!).
Being a Sunday we did not get to see the chocolate being made but we got to do some chocolate tasting.
The lady could not understand my youngest's dislike (disgust) of chocolate and was determined to find something that she would like. She came up with a pink strawberry flavoured chocolate button which my daughter told the lady she liked. The lady immediately gave her a pile of the buttons. Actually though, my daughter whispered to me that she only liked the taste of them when she licked them "before they tasted like chocolate". My daughter kept accepting them from the lady so as not to hurt her feelings. She would lick them and then discreetly hand them to me to eat which I stupidly did – we are so Irish, anything to avoid potentially offending someone!
Cahersiveen was our next stop. We planned on just strolling around the town and letting my youngest look around some shops but this is where the wheels come off on an Irish holiday – it was raining, it was Sunday and everywhere was closed. We couldn't find anything to do. We finally found the only open shop in town "Mr Price" which is a discount store. However, my girls LOVED it as basically everything cost Euro 1.50 and they spent a very happy half hour deciding what to buy with their holiday money – ironically, of course, I'm pretty sure that almost everything in the shop was made in China, where we actually live!
Our accommodation for the night was to be an adventure – Granny's first glamping experience. Now, there's an idea for a series of articles "Granny Goes Glamping – A Granny's Glamping Adventures Around Ireland".
We had a cosy evening reading books, playing cards and eating sausages and chips from the local take-away (local being 5 km). Just as well we were all still speaking to each other at that stage or the "cosiness" could have been a challenge!
Day 4: Kells Bay
On the road home today with a stop off at Kells Bay Gardens – Granny loves her garden so we thought she might enjoy this.
Plenty for the kids to see too. A number of trees had fallen in a storm and they have been cleverly carved into dinosaurs where they fell – the girls had fun searching for the dinosaurs in the forest.
The gardens also boast the longest rope bridge in the country which the girls loved, half their fun of course being in making it sway to try and scare Mummy!
One last lunch before hitting the road for home. This also meant one last argument with Granny over who was going to pay. My Mum is the typical Irish mammy when it comes to paying for anything – I'm very much reminded of Mrs Doyle from Father Ted:
It's been a great few days – my girls have seen some of the real Ireland and spent precious time with Granny.
I've filled my lungs with that sharp fresh air and gorged on that wild rugged landscape that I can't get enough of. We've had all weathers – one moment putting on suncream and the next a sweater, driving wearing sunglasses with the windscreen wipers on, winds that would surely blow the cobwebs away, mountains one minute soaked in sunshine and the next swallowed by mist but that's just Ireland…..
The landscape Is beautiful basked in sunshine but, for me anyway, it is even more beautiful when it is being battered by the wild Atlantic winds as that's when the wild ruggedness really comes out.
I'm already looking forward to coming back next summer to do the rest of the Ring of Kerry but until then………